Flame Retardant
Nitcab Flame retardant cables are designed for use in fire situations where the spread of flames along a cable route need to be retarded. Due to relative low cost, fire retardant cables are widely used as fire survival cables. No matter the cables are installed in single wire or in bundles, during a fire, the flame spread will be retarded and the fire will be confined to a small area, thus reducing the fire hazard due to fire propagation. Normal PVC cables are suitable for maximum operating temperature of 70°c whereas Nitcab home protection series cables can operate continuously up to 105°c enhancing the life of an electrical system and giving you protection against short circuit
Flame Retardant Low Smoke
Areas with high human density call for higher safety measures. Fire fighting bodies worldwide have researched that maximum causalities in a fire are caused by chocking and stampedes due to black flames. Nitcab 105°c FRLS cables overcome this as they are low halogen and non toxic air in case of an eventuality.
Low Smoke Zero Halogen Cables
Nitcab Halogen Free cables are the final word to safety. These cables have a special compound which is practically halogen free. It emits very low amount of non- toxic & translucent gases in case of fire, thereby, maximizing chances of rescue. LSZH cables are highly recommended for the places like malls, large offices, cinema hall, tunnels etc.
Submersible Cables
PVC Insulated & Sheathed Three Core Flat Cables as per IS 694/2010 are used to connect submersible pump motor with supply lines, these cables are made keeping in mind the severe operating conditions. The slot available in the tube well being narrow the shape of the cables has to be suited for such an application.
Telephone Cables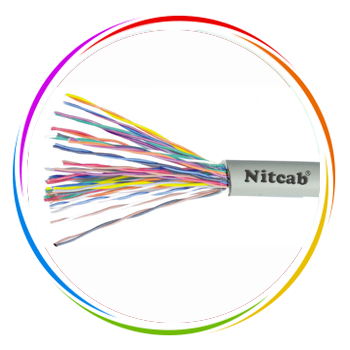 Application : Cables used for indoor Telephones, Telephone Exchanges, Satellite Telecommunication Systems, Industrial Plant Communication Systems, PBAX systems, Closed circuit Security Systems, In-House Telephone wiring and various other equipments involving telephones.
Construction : Solid annealed tinned/ bare copper conductor, PVC insulated cores suitably color coded fro distinct identification, twisted to form Pairs, pairs laid up, PVC sheathed, Armoured Cables are provided with galvanized steel wire/ strip armouring and sheathed again with PVC.
MultiCore Cables
We have come up with Multi-Core PVC Insulated & Sheathed Flexible Cables, which are available in various lengths. Our Multicore rounded cables are widely used for control application. We offer Multicore cables with special jacketing of PVC layer in different sizes as per the requirement of the customers. These cables are manufactured using superior quality raw material for maximum durability. Packed using superior quality material, these cables are safely delivered to the clients.
Co-Axial TV Cables
Application: Used in cable TV operations, computer net-working etc